Staff
Staff
Hillel Skolnik
Senior Rabbi
Rabbi Hillel Boaz Skolnik was ordained at Jewish Theological Seminary of America in May, 2011. In the summer of 2018, Rabbi Hillel and his family moved to Columbus from Orlando, where he was the spiritual leader of the Southwest Orlando Jewish Congregation (SOJC).
Born in New York, Rabbi Hillel spent his entire childhood in Forest Hills, Queens. He is a graduate of both the Solomon Schechter School of Queens and the Solomon Schechter High School of Long Island. Before beginning Brandeis University in 2002, Rabbi Hillel spent the year in Israel as a participant on the Nativ Leadership Program where he enjoyed wonderful learning at the Conservative Yeshiva as well as volunteering in the potato and carrot fields of Kibbutz Saad. In December of 2005, he graduated Brandeis University (cum laude) earning degrees in Politics and Near Eastern Judaic Studies.
Rabbi Hillel enjoyed many summers at Camp Ramah in the Berkshires first as a camper, then as a counselor, Rosh Edah (Division Head), and Operations Manager. Rabbi Hillel has also completed a unit of Clinical Pastoral Education, acting as a chaplain at Bellevue Hospital in Manhattan. In addition, Rabbi Hillel served for a year as the Rabbinic Intern and Hebrew School Principal at the Shelter Rock Jewish Center in Roslyn, NY.
In Orlando, Rabbi Hillel sought out every opportunity to be an integral part of the community. The congregants at SOJC agree that he is energetic, charismatic, friendly, and has great determination to help congregations grow. Rabbi Hillel has been the president of the Greater Orlando Board of Rabbis and served on both the Orange County Public Schools Faith Based Advisory Committee and the Central Florida Coalition on Homelessness Faith Committee. He was named one of the Orlando Sentinel's "100 Most Influential Voices of Central Florida" with his opinions printed often in their Sunday paper.
Alex Braver
Assistant Rabbi
Growing up in Los Angeles, Alex never wanted or expected to be a rabbi….until the end of his time at Brandeis University ('09), where he studied history and politics and was deeply engaged in student government. But faced with difficult times, Alex found comfort and strength in his Jewish practice, and decided to try taking it a little more seriously. After college, Alex began working as a math and English tutor for a diverse group of students from low-income neighborhoods at City on a Hill Charter Public High School, and continued exploring Judaism and Jewish communities in his spare time.
Alex was encouraged by a mentor to move to New York and study in the yearlong fellowship program at Yeshivat Hadar, and then studied at the Jewish Theological Seminary, where he graduated with a Masters degree in Midrash and Scriptural Exegesis. In addition, Alex earned a Certificate in Pastoral Care after serving as a chaplain at the senior center of the YM & YWHA of Washington Heights, and the emergency kosher food pantry and social services agency at Project Ore)
While in rabbinical school, Alex served for three years as a Rabbinic Fellow at B'nai Jeshurun, a large, spirited, innovative, and musical shul in Manhattan. At BJ, Alex taught Torah, led prayer, officiated at life-cycle events, managed the conversion program, worked with teens and families, and benefitted from extensive mentorship and spiritual support.
In his spare time, Alex loves nerdy science fiction and videogames, running, curling up with a great novel, and exploring Columbus with his husband Alex Weisler (yes, they have the same name).
Harold J. Berman
Rabbi Emeritus
Rabbi Harold J. Berman was named Rabbi Emeritus, in June of 2013, after serving as Senior Rabbi of the congregation since 1979. In July of 2016 Rabbi Berman was named Executive Director of the National Council of Synagogues, a consortium designated to represent the national organizations of the Reform, Conservative and Reconstructionist movements of American Jewry in dialogue with national interfaith bodies such as the National Council of Churches and the United States Conference of Catholic Bishops.
An honors graduate of Rutgers University, Rabbi Berman holds a Master's degree and Rabbinic ordination from the Jewish Theological Seminary in New York. In March, 2001, the Seminary also awarded him the honorary degree of Doctor of Divinity.
Rabbi Berman has served three times as president of the Columbus Board of Rabbis. He has served as president of Jewish Family Services of Columbus, as a member of the Board of Trustees and the Executive Committee of the Columbus Jewish Federation and as chairman of the Federation's Community Relations Committee. Rabbi Berman is also a Founding Trustee of the Columbus Jewish Day School.
Rabbi Berman serves as chair of the Va'ad Hakavod (ethics committee) of the Rabbinical Assembly, the international professional organization of Conservative Rabbis. He served the Rabbinical Assembly previously as a member of its national Administrative and Executive Committees and as President of the Assembly's Ohio-Western Pennsylvania Region. Rabbi Berman is also a former chairman and past president of the National Rabbinic Cabinet of the Jewish Federations of North America and is a member of the Executive Committee of the National Rabbinic Cabinet of Israel Bonds. Rabbi Berman has traveled with Rabbinic missions to Israel, Egypt, France, Jordan, Poland, Spain, Turkey and the Former Soviet Union and has led numerous congregational and communal interfaith missions to Israel.
In addition to congregational and Jewish community activities, Rabbi Berman serves on the Ethics Committee of Nationwide Children's Hospital and is a chaplain to the Columbus Police Department. For the high holidays of 5777 and 5778 Rabbi Berman served as Rabbi for the Jewish community of Bermuda.
Rabbi Berman and his wife Beth are the parents of Micah (Rachel Bloomekatz), David, Jordan (Elizabeth), Stephanie (Steven) Fineman and Adam and the grandparents of Seth, Dahlia and Eli.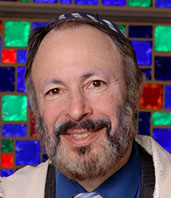 Cantor Jack Chomsky has served at Tifereth Israel since 1982. He is a graduate of Brown University and the Cantors Institute of the Jewish Theological Seminary. A baritone, he is an accomplished song interpreter. He has been involved in every facet of Jewish music-making throughout the Columbus Jewish community and has helped plan and implement many community musical and cultural events, including coordination of the Social Action programming of the congregation.
Cantor Chomsky is co-founder and director of KOLEINU, the Jewish Community Chorus of Columbus, and has been a leading activist in social justice and interfaith programs in central Ohio. He is a founding member of the organization We Believe Ohio, and President of B.R.E.A.D. (Building Responsibility, Equality And Dignity), a local community action organization. He is also past-President of the Cantors Assembly, the world's largest association of professional hazzanim, and served as Editor of the Journal of Synagogue Music, the semi‑annual national publication of the Cantors Assembly, from 1988 until 1994. He was an early and active proponent of accepting women into the Cantors Assembly (women were accepted in the Cantors Assembly for the first time in 1990).
Cantor Chomsky served on the Music Advisory Panel of the Ohio Arts Council, has been active in the commissioning and premiering of several musical works, and has presented many concerts of Jewish music in Columbus, both as performer and producer. He is married to Susan Gellman, and together they are the parents of Ben and Addie.
Steve Friedman
Executive Director
Steve Friedman has spent the past thirty plus years working for various Jewish organizations in Cleveland, Ohio; Greenwich, Connecticut and Houston, Texas. He began serving the Jewish Community when he assumed the role of Finance Director for the Cleveland Bureau of Jewish Education. In 1990, Steve left the BJE to become the Executive Director for Park Synagogue, one of the largest Conservative congregations in North America, with over 1,800 family members. In 1999, Steve left Park to assume the role of Chief Financial Officer for the Cleveland Jewish Community Center, an organization with over 10,000 member units. In this role, Steve was responsible for overseeing the JCC's finances and operations. In April 2007, he joined Temple Sholom in Greenwich, Ct. as their Chief Operating Officer. Most recently, Steve served as the Executive Director for Congregation Emanu El in Houston.
Steve has a wide variety of experience in financial management, congregant/membership services, facilities management, information technology, human resources, cemetery management, purchasing, budgeting and strategic planning. He has a Bachelor's of Science Degree in Accounting from Myer's College in Cleveland, Ohio.
Steve and his wife Noreen, an Oncology Nurse/Manager have been married for over 38 years. They have three daughters; Naomi who is married and working in Columbus as an HR Manager with the Limited Brands, Susie, who is also married and working in Columbus as a physician associated with the Ohio State University and Sara, a college student. Steve and Noreen are also the proud grandparents of Simon and Emmett.
Miriam Berk
Education Director
Miriam Berk has returned home. Born and raised in Columbus, Ohio at Tifereth Israel, she was a product of the Religious School under Evelyn Nateman. She was a member of the USY Israeli Folk Dance Troupe, HaRakdanim, and a Bar and Bat Mitzvah tutor. It's no wonder, then, that Miriam went on to study Judaic Studies at the Ohio State University and to devote herself to a career in Jewish Education. Miriam has directed five congregational schools over the past two decades including on both coasts and in Canada. She also worked for the former Bureau of Jewish Education in New York, and at several Young Judaea and Ramah camps in North America. She met her husband working for Alexander Muss High School in Israel and lived there for several years before returning to America to continue raising her family.
Her passion for educating our youth stems in part from her deep commitment to living an authentic Jewish Conservative life. She finds great comfort in our traditions yet has always looked for avenues to celebrate and engage with those traditions in modern, creative and meaningful ways. She believes that building community is the key to engaging our youth and families and hopes to begin fostering those relationships with all of her students and families and helping those families engage more with each other.
Miriam and her husband, Rabbi Arye Berk, have three children: Pnina who lives and studies in Israel, Shai who just completed his three years of service in the IDF as a lone soldier and will study in the fall, and Shoshi who is a senior at Bexley High School.
Mon, June 17 2019
14 Sivan 5779
Our top-notch staff is committed to making Tifereth Israel the best it can be, every day.
Hillel Skolnik | Senior Rabbi
Alex Braver | Assistant Rabbi
Harold J. Berman | Rabbi Emeritus
Jack Chomsky | Cantor
Steve Friedman | Executive Director
Miriam Berk | Education Director
Morgan Levin | Youth & Family Director
Rebecca Haimowitz-King I Program Director
Shelley Levey | Office Manager/Assistant to Executive Dir.
Stacy Craig | Accounting Supervisor
Miriam Segaloff | Marketing Coordinator
Juan Pineda | Facilities Director
Helen Chronister | Librarian
hchronister@tiferethisrael.org
Joy Contreras | Clergy Assistant
Navah Moore | School Administrative Assistant
Wendy Lake | Front Desk Admin. Assistant
Thelma Jimerson | Kitchen Manager
Complimenting our staff is our dedicated and passionate lay leadership. Click here for more.
Mon, June 17 2019 14 Sivan 5779